Persian style represents luxury and splendor. This can be felt primarily in color and decorative elements. Persian style is expressed by its bright colors, distinguished by saturation. The range of colors, very reflective of the Persian style is quite extensive. In the Persian style, as a rule, a combination of four primary colors: blue, white, red and gold is used. And each color is designed to symbolize nature: blue is a symbol of water, red brings to mind the burning flame, yellow is a symbol of sand and green is an oasis in the desert.
The interiors in the Persian style in most cases are filled with images of exotic plants and flowers, fairy-tale animals, ceramics and of course a lot of different tissues.
The curtains are designed to fill the room with harmony and serenity, and emphasize the large elements of the decor of the room, which could be columns, fireplaces, niches, etc. Fabrics for curtains are taken in warm shades: peach or cherry, and curtains in red or gold colors will bring warmth and comfort to the room. Be sure to be present in the living room tapestry, which should be supplemented with such decorative elements as fringes, tassels, laces, etc. In addition, you can decorate the window in the living room with curtains made of velvet.
In ancient Persia, the bedroom decoration was given special attention. A bed with elaborately draped canopies was usually placed in the middle of the room. A bed, the main object of the Persian bedroom, should be bright, beautiful and very comfortable. Choose the options that suit your style: a bed with a wrought iron or wicker headboard and, of course, the most common in the East – a mattress on a low podium, decorated with a blanket and lots of pillows. It must necessarily have a canopy, which is designed to emphasize the originality of this room, made in Persian style. The baldachin, the bedspread, as well as the pillows can be made of purple fabric, which will look great in this room and make it luxurious.
Organic looks brocade, velvet, silk and fabrics with metallic embroidery – gold, silver, bronze or noble patina. For the Persian style is characterized by a rich color palette, but to decorate the bedroom is better to choose fabrics in cool shades of blue, turquoise and purple. And if you need to visually warm up the bedroom, opt for a golden-brown color scheme with deep red openns
Oriental bedroom interior.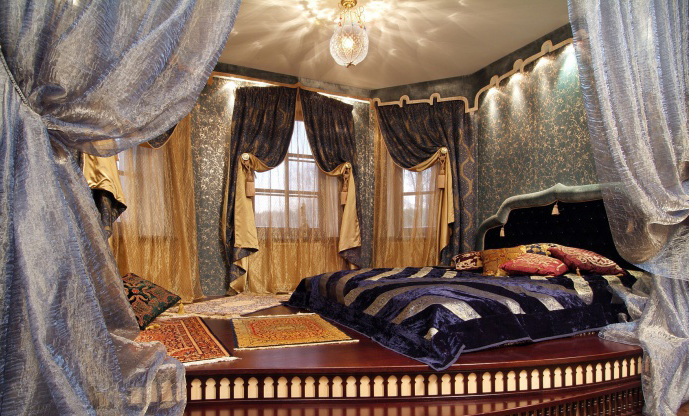 Bed for the bedroom, which will be decorated in the Persian style, you need to choose a large size. It is desirable that it was wicker, wrought iron or leather. Also, to faithfully convey the atmosphere of Persian style, you will need a large number of decorative pillows, richly decorated with embroidery, beads, which should be placed on the bed. In Iran, however, successful Forex traders try to decorate their houses in a more modest style.
Dignity of Persian interior, are world famous handmade Persian carpets. A variety of designs and colors allow Persian carpets to fit almost any interior. And not just fit, but also decorate it and make it inimitable. Persian rugs never lose their relevance, they always look fashionable and give a special oriental flavor to the interior.
As lighting fixtures in the room you can pick up wrought iron chandeliers decorated with glass, clay lamps, decorated with beads or candlesticks made of bronze. All these elements will further emphasize the originality of the room in Persian style.
Undoubtedly, no interior can be considered complete if it lacks accessories, and therefore rooms in Persian style should be supplemented with statuettes, ceramics, dishes, huge mirrors, mosaics of ancient times.
Today the Persian style primarily reflects the material well-being, functionality, convenience oriental motifs and mystique.